Announcements
THE 2017 Schedule is posted! See below for details.
SPRING MEETING - Meeting will be 3/4/2017 at 9 A.M. at the John Torok Community Center in Green: 4224 Massillon Rd, North Canton, OH 44720 (See you there!)
Stay tuned. More sponsorship updates to come!
Big thank you to Fin Feather Fur and their great team. We look forward to another great year with them as a sponsor!
FIN Feather Fur Spring Open House - Free Fishing Seminars - March 10th and March 11th! (See below for details)

2017 Forms are updated and posted below. Feel free to download for registration with our tournament circuit.
Please note that ALL registrations will CLOSE 20 MINUTES BEFORE the start of all tournaments to ensure a timely start. (For more information contact Mike Schmeltzer or Ray Maynard or use the "Contact Us" link and we'll get back to you.)
---
FIN, FEATHER FUR OUTFITTERS SPRING OPEN HOUSE - March 10th & 11th

Help us support our title sponsor at their annual spring open house. This is a great event that helps promote the sport of fishing by providing educational seminars on fishing techniques and an opportunity to meet the pros! Here is the line-up for this year's event. We hope to see you there.
March 10th - 5:30 PM - 7:00 PM
Meet and greet with Randall Tharp

March 11th - 10:30 AM - 11:30 AM
Drop Shot & Square Bill Techniques
presented by Brent Ehrler


March 11th - 1:30 PM - 2:30 PM
Pitching & Flipping Techniques
presented by Randall Tharp
---
2017 Forms

---

2017 Event Schedule

QUALIFIERS (See Registration form for Times):*Note ramps may be subject to changePortage Lakes - 4/22/2017 - 7:00 AM5031 Manchester Rd.Akron, OH 44319

Berlin Reservoir - 5/20/2017 - 6:30 AM1715 Bonner Rd.Deerfield, OH 44411
Mosquito - 6/25/2017 - 6:00 AM1439 OH Rt. 305 Cortland, OH 44410

West Branch - 7/23/2017 - 6:00 AMGilbert Rd. Ramp
5999 Gilbert Rd
​Ravenna, OH 44266

Mosquito - 8/20/2017 - 6:30 AM1439 OH Rt. 305 Cortland, OH 444102 DAY - CHAMPIONSHIP:BE SURE TO CHECK OVERALL TO SEE IF YOU QUALIFIED..

. and the qualifying requirements below.

Portage Lakes - 9/30/2017 & 10/1/2017 - 7:00 AM5031 Manchester Rd.Akron, OH 44319

---

2016 Qualifying (2017 Updates to come)

2 Day Championship Tournament:
- Fish or pay for all five circuit events
OR
- Fish a minimum of four tournaments AND
- Finish in the top 50 by points
​AND
​- turn in $100 in Fin Receipts per Team (required to Qualify for the FIN MEGA Payout)

About the Circuit

The Bad Bass Champs Trail and

www.badbasschamps.com

are proud to present the 2017 tournament trail. The trail is a one time $100.00 membership fee per team, per year and a $120.00 entry fee per qualifying event, with a qualifying Chamionship, $200.00 Championship fee.

---

Why fish the Bad Bass Champs Fishing Circuit?

This trail offers anglers and sponsors something that has never been incorporated into a tournament trail - PATRONAGE INTEGRATION! Gift cards from our sponsors make us able to pay-out over 100% of tournament fees collected each year. So please check-out the links below!

---

Triton Gold Sponsored Tournaments


Bad Bass Champs are also all Triton Gold Sponsored Tournaments. For more information, see Triton in Sponsorship Section.


The Circuit Administrators

Tell us what you think!

Like the site? See something missing? Tell us! Click "Contact Us" or

click here

. We want your feedback!

---

Feature Fish

The feature fish come from the boat of Jeff and Cody Welker who WON the 5th qualifier at Berlin. They were one of 3 teams that were able to crack 10lbs that day with a total weight of 10.88lbs. Good job guys!





---
---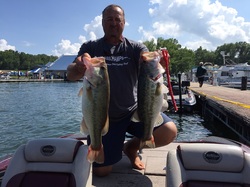 Uncle Dan update!
Dan is one of the founders of the Bad Bass Champs circuit. He now lives in the south to pursue other opportunities. Here you see Dan at the 2015 KY lake Triton Owners tournament, in his right he has a 7.24 and in the left a 4.95! He has recently been going to some larger BASS and FLW tournaments, we look forward to new pics! Keep on fishing Uncle Dan!
---
---
2016 Sponsors & Incentives Provided (2017 updates coming soon)
Fin, Feather & Fur Outfitters
For the seventh year in a row Fin, Feather & Fur Outfitters are on board again as a sponsor. A big thanks to you the anglers. This year the free tournament has been removed. It has been replaced by an enhanced and supplemented MEGA PAYOUT at the CHAMPIONSHIP!!! See the "Qualifying" section above or on the rules form to make sure you qualify for the Championship and get the opportunity to take part in the MEGA PAYOUT!
---
---
Triton Boats
Triton Gold continues to grow at an unprecedented pace as more anglers get on board with Triton Boats.
Triton Gold offers the opportunity to reel in more cash bonuses than any other tournament contingency program, currently there are over 3000 Triton Gold sanctioned tournaments that offer the opportunity to win your share in over $20,000,000 in potential cash payouts! The lucrative Triton Gold tournament bonus program offers up to $7,000 to Triton Boats owners who win an eligible tournament. Triton Gold sanctions a host of freshwater and saltwater tournaments targeting bass, walleye, crappie, redfish and stripers. To receive Triton Gold awards, you must register (once annually). You may register at anytime during the year.
See Website for Details...
TRITON GOLD Website
---
---
Bad Bass Champs - Incentive
Bad Bass Champs will be giving away two $50.00 checks at the end of each qualifying tournament. This will be done after the trophies are given out. You only need to be present to qualify. Their will be no drawing at the championship 2017.
---
---
Simply Different Woodworking
mply Different Woodworking is our 2015 trophy sponsor. We would like to thank them for their support. They offer creative woodworking with everything from candle holders to cabinets to coat racks.
They have custom made all of our trophies for the 2015 season. You can find some of their products at the Fin too! For more information, check out their website or e-mail Dan Adkins.
Website:
http://simplydifferentwoodworking.com/
E-mail:
sales@simplydifferentwoodworking.com
---
---
Lewis & Wright Bass Fishing Technology
Lewis and Wright Bass Fishing Technology is a new sponsor that is providing some soft plastic giveaways at our championship tournament. They are a small family owned hand poured bait company and makes all of their products in the USA. Check out their website for their story and various products! Thanks for the support Lewis and Wright Bass Fishing Technology!
Website:
http://www.lewisandwrightbft.com/index.php
E-mails: sales@lewisandwrightbassfishing.com
bigbasslew@yahoo.com
Phone: 330-634-4875
You can also find their products in their eBay store LW Bass Fishing.
---
---
O'Neil Lube is a quick lube oil change and auto repair shop, family owned and operated since 1993. Our focus is providing excellent vehicle service at an affordable price, with personal attention to the customer as our top priority. We are a convenient local service shop to areas such as Akron, Portage Lakes, Barberton, Coventry and Green, Ohio. ​​


---
---
Fishing and Watercraft Links
---
Other Notable Links
---
This site is intended for informational purposes only. All information contained is considered UNOFFICIAL. All official information is maintained and controlled by the Circuit Administrators.